How to Download HSBC Bank Statements into Excel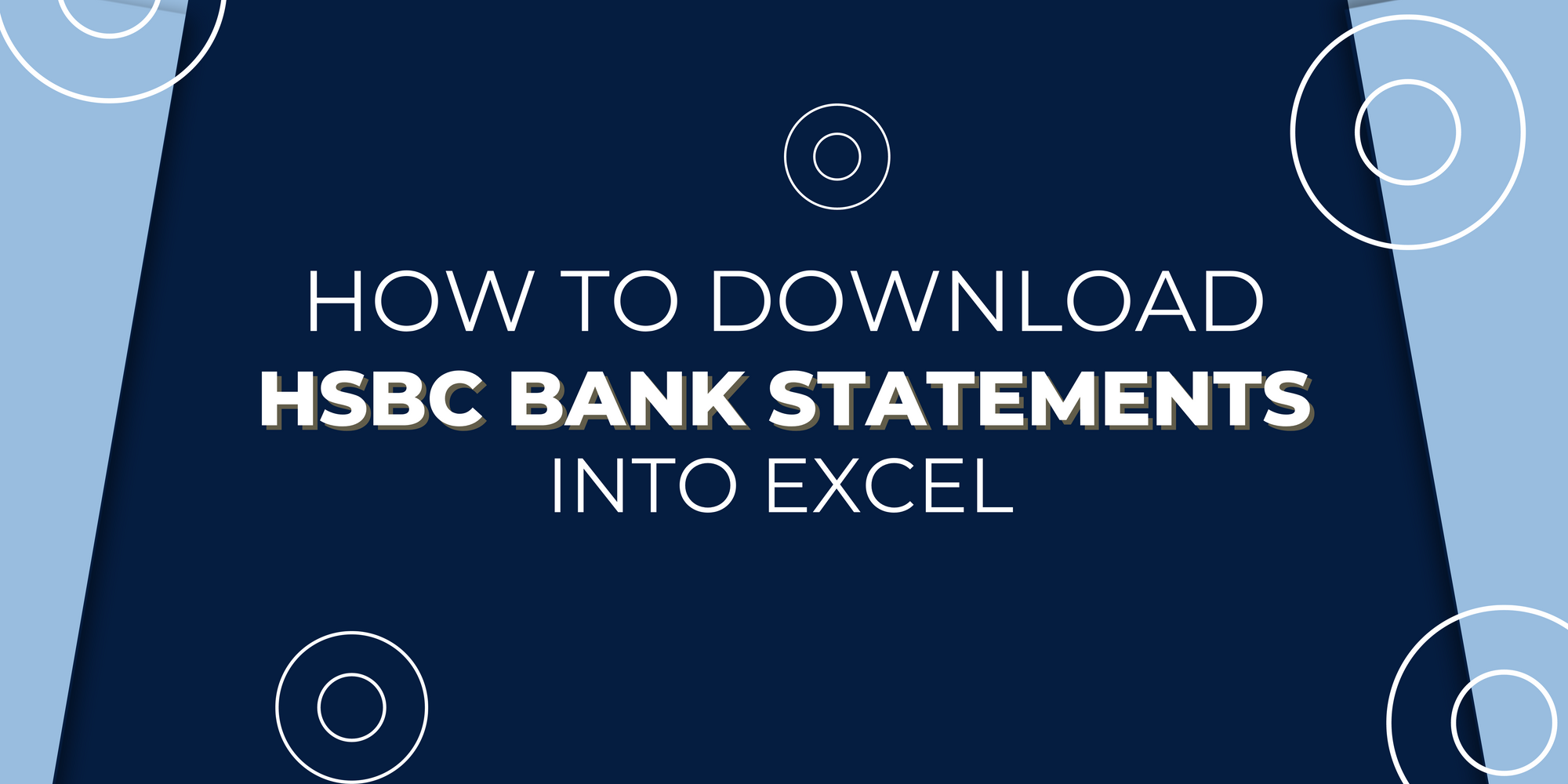 HSBC Holdings plc, formerly The Hong Kong and Shanghai Banking Corporation, is a prominent British financial institution headquartered in London, England. The bank has a rich history and strong business connections to East Asia, and it maintains a global presence with offices, branches, and subsidiaries in 62 countries and territories across Africa, Asia, Oceania, Europe, North America, and South America. HSBC serves approximately 39 million customers worldwide.
The bank's roots can be traced back to a trading house in British Hong Kong. As of 2023, HSBC is ranked 20th in the Forbes list of the world's largest companies, based on criteria such as sales, profits, assets, and market value. This underscores its significance as a major player in the global financial and banking industry.
Let's see the details of how to download HSBC bank statements to Excel.
How to Download HSBC Bank Statements to Excel
To download bank statements from HSBC Business Internet Banking, follow these steps:
Step 1: Sign in to your HSBC internet banking account.
Step 2: From the list of accounts, locate your current business account (usually labeled as "BUSINESS A/C") and click on the red account number.
Step 3: Once you've accessed your account, look for the option that says "View Recent Transactions" and click on it.
Step 4: At the bottom of the screen, ensure that you've selected "Transaction Download" (not PDF). Then, use the "Select File Format" dropdown menu to choose "Microsoft Excel Spreadsheet" (do not check "zip").
Step 5: After selecting "Microsoft Excel Spreadsheet," click the "Download" button to save the file to your computer.
Step 6: You can also download previous statements by clicking the red button labeled "View Previous Statements" at the bottom of the screen.
Step 7: Select the specific statement you want to download from the list of available statements.
Step 8: Use the "Download" button, which can usually be found at the bottom of the screen. Make sure to select "Excel" from the "File Format" dropdown menu and save the statement to your computer.
Step 9: If you need to download multiple statements, you can click "Next" or "Previous Statement" and repeat the same process for each statement you want to download.
These steps will guide you through the process of downloading your HSBC business account statements in Microsoft Excel format from their Internet banking platform.
Also, After downloading PDF bank statements, you can use Convert My Bank Statement to convert your PDF bank statements to CSV.
HSBC Bank Statements
Your HSBC bank statement provides a comprehensive record of all financial transactions within a specific time frame. Here's a simplified breakdown of the key information in your statement:
Personal Information: At the top of the page, your statement displays your name, address, the statement period (dates), and your account name.
Account Summary (top right corner):
International Bank Account Number (IBAN): An alphanumeric code uniquely identifying your account worldwide.
Bank Identifier Code (BIC): A code used by international banks to route money to your account.
Opening Balance: The amount in your account at the beginning of the statement period.
Payments In: The total money deposited into your account during the statement period, which may include your salary or benefits.
Payments Out: The total amount of money you've spent or transferred out of your account during the statement period, covering expenses like shopping, ATM withdrawals, and regular Direct Debits or standing orders.
Closing Balance: The amount remaining in your account at the end of the statement period.
Overdraft Limit: This is the maximum amount you're allowed to overdraw on your account, as agreed with the bank.
Additional Details:
Sort Code: A 6-digit number that identifies the specific branch where your account is located.
Account Number: An 8-digit unique number associated with your account. Anyone who wants to send money to you will need this information.
Sheet Number: If your statement spans multiple pages, each page is numbered to help you keep it in the correct order.
Conclusion
Bank statements serve as valuable tools for individuals to manage their finances effectively, detect mistakes, and understand their spending patterns.
It's crucial to review your bank statements regularly, whether on a daily, weekly, or monthly basis, to ensure that your records align with the bank's records. This practice helps avoid overdraft fees, address errors, and identify potential fraudulent transactions.
It's a good practice to retain your monthly bank statements for at least one year. This period allows you to have a historical record of your financial transactions, which can be helpful for various purposes, including tax-related matters and financial planning.